text.skipToContent
text.skipToNavigation
Work at HUBERLAB. AG

The people who work at HUBERLAB. are visionaries, enthusiasts and team players who are committed to the incorporation of new ideas etc. team players who share knowledge and push forward with innovations. And all of this in a lively and forward-looking environment.
We value individuality, reliability and activities which are meaningful. The people who work at HUBERLAB. are highly committed and appreciate a good working environment.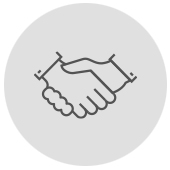 Wir erweitern unser erfolgreiches Team um eine/n
Gebietsverkaufsmanager (m/w) für die Deutschschweiz (100%)

Ihr Aufgabenbereich:
Betreuung eines bestehenden Kundenkreises (vorwiegend Forschungslabors in der Industrie, an Hochschulen und in Spitälern)
Gewinnung von Neukunden
Beratung unserer Kunden in technischen, anwendungsspezifischen und kaufmännischen Belangen vom Büro aus oder persönlich
Auftreten an Messen und Durchführen von Roadshows
Selbständige Betreuung und Weiterentwicklung Ihrer Verkaufsregion nach den Zielvorgaben der Geschäftsleitung
Akquirierung der Kunden mit modernster Ausstattung (Tablet & Smartphone) und festhalten der Vertriebserfolge im täglichen Reporting (CRM)
Pflege und Erweiterung unserer Kundendatenbank (CRM)

Ihr Profil:
Mehrjährige Verkaufserfahrung im Laborbereich oder Life Science (zusätzlich von Vorteil: eine naturwissenschaftliche Ausbildung wie z.B. Chemie- oder Biologielaborant/in oder eine verwandte technische Ausbildung) oder auch Neueinsteiger
Sie sind kontaktfreudig, motiviert und haben viel Eigeninitiative? Telefonieren, Online-Meetings aber auch Besuche Vorort begeistern Sie?
Offene und gut organisierte Macherpersönlichkeit mit unternehmerischem Denken
Talent, Zusammenhänge und neue Technologien verständlich zu erklären
Gepflegtes, professionelles und überzeugendes Auftreten
Sehr gute Deutschkenntnisse in Wort und Schrift, sie sprechen oder schreiben eine zweite Sprache Englisch oder Französisch
Gute EDV-Kenntnisse (MS Office), eine hohe Affinität für moderne Kommunikationsmethoden und PC Programme
Führerschein Kategorie B

Unser Angebot:
HUBERLAB. ist Ihr starker, innovativer Partner für eine sichere Zukunft
Interessante, abwechslungsreiche Tätigkeit in einem dynamischen und wachsenden Arbeitsumfeld
Mitarbeit in einem gut eingespielten Team mit flacher Hierarchie
Solide Einarbeitung sowie regelmässige Aus- und Weiterbildung
Möglichkeit sich innerhalb des Unternehmens weiter zu entwickeln
Festanstellung auf langjährige Sicht mit einem attraktiven Gehaltspaket
Ausgewogene Work-Life-Balance

Sagt Ihnen das Aufgabengebiet zu und Ihr Profil passt? Dann senden Sie uns Ihr Dossier mit Lohnvorstellungen an jobs@huberlab.ch. Wir freuen uns auf Ihre Bewerbung.