text.skipToContent
text.skipToNavigation
Asecos
ALL PRODUCTS
---
You can find all the products of our partner here.
asecos – the global experts in hazardous materials storage and handling
asecos is the world's leading manufacturer of safety storage cabinets in accordance with European Standard EN 14470-1 / -2 and ensures proper storage and safe handling of hazardous substances in everyday working life. Their products offer for the following areas all-round protection: hazardous materials storage in the workplace; extraction and filter systems; hazardous materials handling in outdoor areas; protection of non-smokers and service solutions.

asecos is certified to EN ISO 9001 and 14001. asecos safety storage cabinets are our core focus: asecis offer the appropriate fire resistant cabinet across a range of sectors such as pharmaceutical, academia, industrial and agricultural, providing safe and legally compliant storage. All products in their range of flammable storage cabinets are also GS-tested and guarantee compliance with the requirements of EN 14470-1/-2 and EN 16121/16122.
Safety storage cabinets S-CLASSIC-90 Modell S90.196.120
Safe and proper storage of flammable hazardous substances in working areas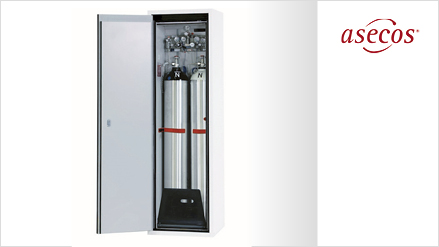 Pressurised gas cylinder cabinet G-ULTIMATE-90 Modell G90.205.060.2F
Safe and proper storage of flammable or toxic compressed gases in working areas 2 compressed gas cylinders of 50 litres each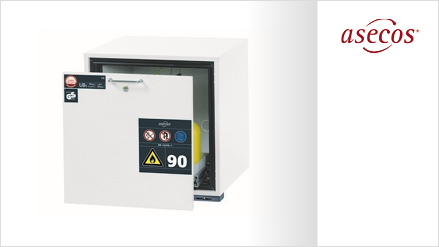 UB-S 90 safety base cabinet Modell UB90.060.059.S
Safe and proper storage of flammable hazardous substances in working areas