text.skipToContent
text.skipToNavigation
DuPont
ALL PRODUCTS
---
You can find all the products of our partner here.
You can rely on the innovative protective equipment made by DuPont
The world is changing fast. As more and more countries are becoming industrialised, their personal protective equipment requirements are also increasing. In order to meet this demand, DuPont provides solutions based on scientific findings which protect rescue teams, policemen and women, as well as employees carrying out production, construction or maintenance work.
DuPont knows that these people are not invulnerable. The company has committed itself to developing solutions which help to protect them from the hazards in the workplace. DuPont protective clothing solutions comprise some of the industry's most popular brands: DuPont™ Kevlar® fibres for protection against cuts, abrasions and ballistic impacts; DuPont ™ Nomex® fibres for protection against heat, flames and electrical hazards, as well as DuPont ™ Tyvek® and DuPont ™ Nomex® protective clothing for protection against chemicals, hazardous biological substances and particles.
Finding DuPont protective apparel just got easier!
Every single day, three DuPont brands - Tyvek ®, Tychem® and ProShield® provide reliable protection for workers across the globe. Now, we've harmonised our product identification system and unified the packaging to enable easier identification of our products as well as facilitate garment selection. Simple numeric system allows to easily recognize the level of protection. The higher the number, the higher the protection.

By this improvement we are not only making it easier to select the right garment for any application but also ensure compliance of our products with the latest EU regulation on Personal Protective Equipment (EU) 2016/425. This brochure explains the key changes that we will be implementing, along with details on the new product names.
3 powerful protection brands
---
Dupont™Proshield
Protective clothing solutions for less demanding barrier requirements.
Dupont™Tyvek
Protection against a wide range of liquid and solid chemicals as well as fine particles, fibres and biological hazards.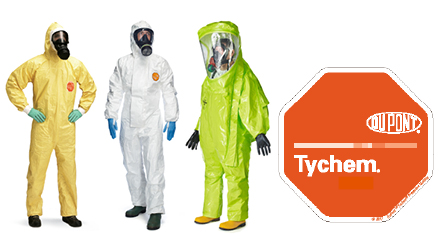 Dupont™Tychem
Comprehensive protection at low weight, e.g. against low toxic chemicals up to highly toxic gases and biological hazardous substances.
More information about DuPont
---
Gloves from Dupont - that makes protection complete
---