text.skipToContent
text.skipToNavigation
Socorex
ALL PRODUCTS
---
You can find all the products of our partner here.
Specialist range of services
Today's production programme includes a wide range of high-precision instruments which are used for reliably measuring, dosing, transferring, dispensing and injecting fluids in many fields of application. Manual and electronic micropipettes, multichannel pipettes, repeater pipettes, dispensers, pipetting aids and self-filling syringes, together with the matching accessories, form the core of the programme. Each instrument is provided with a serial number and undergoes a strict performance assessment which is confirmed by an individual QC certificate.
Socorex & HUBERLAB. two Swiss companies
Socorex and HUBERLAB. are two typical Swiss family enterprises which have been working together successfully for decades and which maintain a relationship as partners.

Socorex & HUBERLAB. - zwei Schweizer Firmen
Socorex und HUBERLAB. sind zwei typische Schweizer Familien-Unternehmen, die seit Jahrzehnten erfolgreich zusammen arbeiten und eine partnerschaftliche Beziehung pflegen.

INNOVATIONS AND BESTSELLERS
---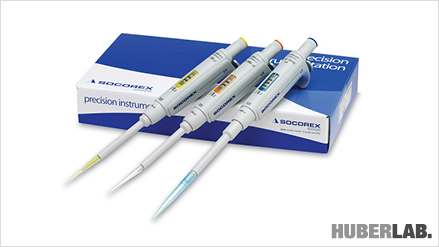 Starter Packs Trio Pack & TwiXS pack
A wide selection of volume combinations for all application requirements