text.skipToContent
text.skipToNavigation
Dr. Weigert Neodisher
ALL PRODUCTS
---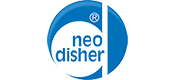 You can find all the products of our partner here.
Cleaning and disinfection for laboratories with Dr. Weigert neodisher®
neodisher-concepts and -products guarantee first-class results and the durability of high-quality materials. You will find the perfectly matched neodisher® product for every application and material.
Neodisher products are innovative, market-driven and economical.
HUBERLAB. has taken over exclusive distribution for the segment of laboratory products for customers in research and industry.
Experience for your safety
For over 30 years, neodisher® has been supporting the technological development of and setting the standards for machine cleaning. neodisher® concepts guarantee first-class results, the longevity of high-quality materials and residue-free cleanliness.
Dr. Weigert has been a pioneer in the machine cleaning of laboratory glassware and utensils. Even the most difficult tasks can be solved – expertise that you can trust.
Tips & Tricks for Laboratory Glas Cleaning
---
Expertise from a single source
---